"
A nugget's hut is almost as essential to their well-being as food or water. This is their home, and they will return here often to either rest or mate.
"

~ Tutorial
The stone hut is a small sized building mainly used to shelter Nuggets from Disasters, and to provide a place to rest and regain stamina. It has a quick build time due to its low resource requirements and build points, and also requires water to function.
Employment
Edit
This building does not provide any jobs as it works passively.
Mechanics
Edit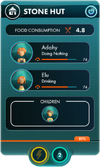 The stone hut cannot be placed normally by the player, and will instead be built by the nuggets whenever they form new families with each other. The hut will house two adults, and any number of children born from the two parents.
After the children age into adults, they too will form new families and build other huts. These huts will be placed randomly around the Evolution Tower.
There are two main uses for the huts. The first is for nuggets to rest in and recover stamina, while the second is to mate and produce children. A third, but less common usage, is to shelter from Disasters. This is done when the emergency button is activated in the Forecast Tower's info panel.
Clicking on a stone hut will open its information panel which includes:
Current food consumption of the hut.
The adult nuggets living in the hut.
The adolescent nuggets living in the hut.
The current durability of the stone hut itself.
The power and water requirement meters.
Ad blocker interference detected!
Wikia is a free-to-use site that makes money from advertising. We have a modified experience for viewers using ad blockers

Wikia is not accessible if you've made further modifications. Remove the custom ad blocker rule(s) and the page will load as expected.